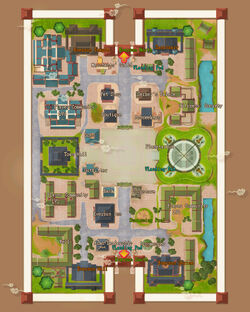 About
Eversun City is the central hub for trade and chitchat in the game. Players are frequently seen impersonating GM's on broadcast and spamming phrases like 'Fuck Niggers!'
Eversun City is the first city in the game and provides a variety of different quests and objectives, from recipe collection to fetch quests and quests that require you to go to specific coordinates.
Map
NPCs
Quests
See Category:Eversun City quests for additional quests.
Job Qualifications
The coordinates listed are only one possible position in the collection zone where you can harvest the materials. You can collect the same materials in surroundings areas and find a NPC for collection tools and refinement, unless stated otherwise.
Meditation 1
X:148 Y:65 Meditation 1
X:248 Y:65 Meditation 1
X:248 Y:330 Meditation 1
X:148 Y:338

= Collection zone     

= Collection zone with no NPC for tools and refinement in proximity
Wooden Slippers
X:134 Y:330 Vitamin A Pill
X:156 Y:241 Cotton Gloves
X:175 Y:247 Peasant Pants
X:157 Y:219 Bolstering Broth
X:176 Y:157 Cotton Cap
X:232 Y:128 Cord Wrist Guards
X:285 Y:128 Leather Helm
X:166 Y:87 Commoner's Coat
X:270 Y:199 Leather Boots
X:278 Y:253 Fabian Marshall
X:178 Y:198

= Recipe Pot     

= Cannot be accessed by flying     

= Merchant NPC

From Fabian Marshall at (X:178 Y:198):