Mirror King's Assistant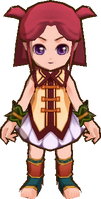 Information
Race: Sprite
Gender: Female

Locations
Summoning Pool (X:53 Y:38)
Quests
None
Mirror King's Assistant is a Merchant NPC.
This NPC will give you the following non-tradable items for use with the Devil Seal Cards system:
You are also provided with an explanation as to how the system works.
You can also get a new Almanac of Gods and Demons from her if it is destroyed, or if it was sold to the Almanac Eater/Recycler.
Community content is available under
CC-BY-SA
unless otherwise noted.