Road Run Organizer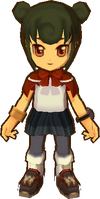 Information
Race: Sprite
Gender: Female

Locations
Placid Plain (X:509 Y:332)
Quests
Road Run Qualification Race
Road Run Organizer is a Quest NPC.
Speak to Road Run Organizer to start her tasks. You must be at least level 30.
Most of the quests are timed and make use of the Mission Journal's (Ctrl+C) autowalk function. Manually walking to the spots may not register the task as complete.
After each task, return to Road Run Organizer for your rewards.
Each quest gives:
After the 5th and 10th quests you will additionally recieve:

40,000 Experience Points (instead of 23,000)

After completing the 10th quest you will also recieve:
Community content is available under
CC-BY-SA
unless otherwise noted.