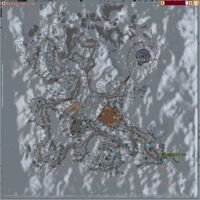 Map
[
]
NPCs
[
]
Monsters
[
]
| Name | Job | Level | Element | Experience |
| --- | --- | --- | --- | --- |
| Pink Mini Moth Fairy | Musician | 60 | Non-Elemental | 12,200 |
| Divine Male Bird of Paradise | Fencer | 62 | Water | 14,400 |
| Female Blizzard Bird | Musician | 63 | Wood | 15,235 |
| Female Divine Bird of Paradise | Merchant | 63 | Wood | 15,235 |
| Male Blizzard Bird | Doctor | 63 | Wood | 15,235 |
| Male Divine Bird of Paradise | Mercenary | 63 | Wood | 15,235 |
| Wise Monkey | Hunter | 63 | Wood | 13,850 |
| Black Divine Monkey | Merchant | 64 | Water | 29,900 |
| Divine Female Bird of Paradise | Wizard | 64 | Water | 14,400 |
| White Divine Monkey | Doctor | 64 | Water | 28,800 |
| Baby Butterfly Fairy | Doctor | 65 | Non-Elemental | 14,950 |
| Black Divine Monkey Warrior | Thief | 65 | Water | 29,900 |
| White Divine Monkey Shaman | Dancer | 65 | Water | 29,900 |
| Black Divine Monkey Defender | Mercenary | 66 | Water | 201,500 |
| White Divine Monkey Guardian | Musician | 66 | Water | 231,400 |
| Windy Wolf | Thief | 66 | Wood | 15,500 |
| White Bear | Martial Artist | 67 | Water | 16,050 |
| Wicked Wolf Blood Drinker | Blademaster | 67 | Earth | 32,100 |
| Wicked Wolf Earthcaller | Wizard | 67 | Earth | 32,100 |
| Wise White Monkey | Hunter | 68 | Wood | 33,200 |
| Wicked Wolf Butcher | Commoner | 68 | Fire | 215,800 |
| Wicked Wolf Fallen Soldier | Fencer | 68 | Earth | 33,200 |
| Wicked Wolf Poisoner | Witch Doctor | 68 | Earth | 33,200 |
| Wicked Wolf Necromancer | Shaman | 69 | Earth | 34,300 |
| Wicked Wolf Tracker | Thief | 69 | Earth | 34,300 |
| Wicked Wolf Destroyer | Martial Artist | 70 | Fire | 442,500 |
Bosses
[
]
The coordinates listed are only one possible position in the collection zone where you can harvest the materials. You can collect the same materials in surroundings areas and find a NPC for collection tools and refinement, unless stated otherwise.
All collection zones have a high rate of failure.
Gallery
[
]
Note: Gallery is from the version of Sneaky Peak that should have been patched to Aeria. Stats on those monsters can be found on the talk page.