This no has not been released on the Suba Games English version of Dream of Mirror Online.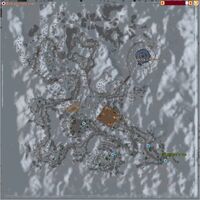 Map
NPCs
Monsters
This area contains monsters level 63 to 69.
Bosses
This area contains bosses level 70 to 77.
The coordinates listed are only one possible position in the
collection
zone where you can harvest the materials. You can collect the same materials in surroundings areas and find a NPC for
collection tools
and
refinement
, unless stated otherwise.
All collection zones have a high rate of failure.
Forestry 5-6
X:404 Y:564 Herding 5-6
X:532 Y:512 Mining 5-6
X:292 Y:428

= Collection zone     

= Collection zone with no NPC for tools and refinement in proximity
Preview