m (it's actually called despot)

Line 21:
Line 21:
 

Monsters with an asterisk were not present in the Aeria version. The Aeria version had monsters that were only present in the P2P version of Sneaky Peak.

 

Monsters with an asterisk were not present in the Aeria version. The Aeria version had monsters that were only present in the P2P version of Sneaky Peak.

 
 
−

{| class="border sortable" cellpadding="2" cellspacing="0" width="80%"

+

{| class="border sortable" cellpadding="2" cellspacing="0" width="80%"

 

|- class="header"

 

|- class="header"

 

! Name

 

! Name

Line 57:
Line 57:
 
 
 

===Bosses===

 

===Bosses===

−

{| class="border sortable" cellpadding="2" cellspacing="0" width="80%"

+

{| class="border sortable" cellpadding="2" cellspacing="0" width="80%"

 

|- class="header"

 

|- class="header"

 

! Name

 

! Name

Line 69:
Line 69:
 

{{User:D-day/Template:Monster|[[Wicked Wolf Tyrant]]*|Mercenary|72|Fire| }}

 

{{User:D-day/Template:Monster|[[Wicked Wolf Tyrant]]*|Mercenary|72|Fire| }}

 

{{User:D-day/Template:Monster|[[Monkey King Ghost]]*|Commoner|75|Water| }}

 

{{User:D-day/Template:Monster|[[Monkey King Ghost]]*|Commoner|75|Water| }}

−

{{User:D-day/Template:Monster|[[Wicked Wolf Emperor]]*|Mercenary|77|Fire| }}

+

{{User:D-day/Template:Monster|[[Wicked Wolf ]]*|Mercenary|77|Fire| }}

 

|}

 

|}

 
 
Line 85:
Line 85:
 

File:Sneaky Peak wolves.png|Wicked Wolves

 

File:Sneaky Peak wolves.png|Wicked Wolves

 

</gallery>

 

</gallery>

−
 
 

[[Category:Fields]]

 

[[Category:Fields]]
---
Revision as of 06:18, 10 December 2015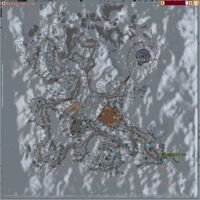 Map
NPCs
Monsters
Monsters with an asterisk were not present in the Aeria version. The Aeria version had monsters that were only present in the P2P version of Sneaky Peak.
Bosses
The coordinates listed are only one possible position in the collection zone where you can harvest the materials. You can collect the same materials in surroundings areas and find a NPC for collection tools and refinement, unless stated otherwise.
All collection zones have a high rate of failure.
Forestry 5-6
X:404 Y:564 Herding 5-6
X:532 Y:512 Mining 5-6
X:292 Y:428

= Collection zone     

= Collection zone with no NPC for tools and refinement in proximity
Gallery
Note: Gallery is from the version of Sneaky Peak that should have been patched to Aeria. Stats on those monsters can be found on the talk page.
Community content is available under
CC-BY-SA
unless otherwise noted.